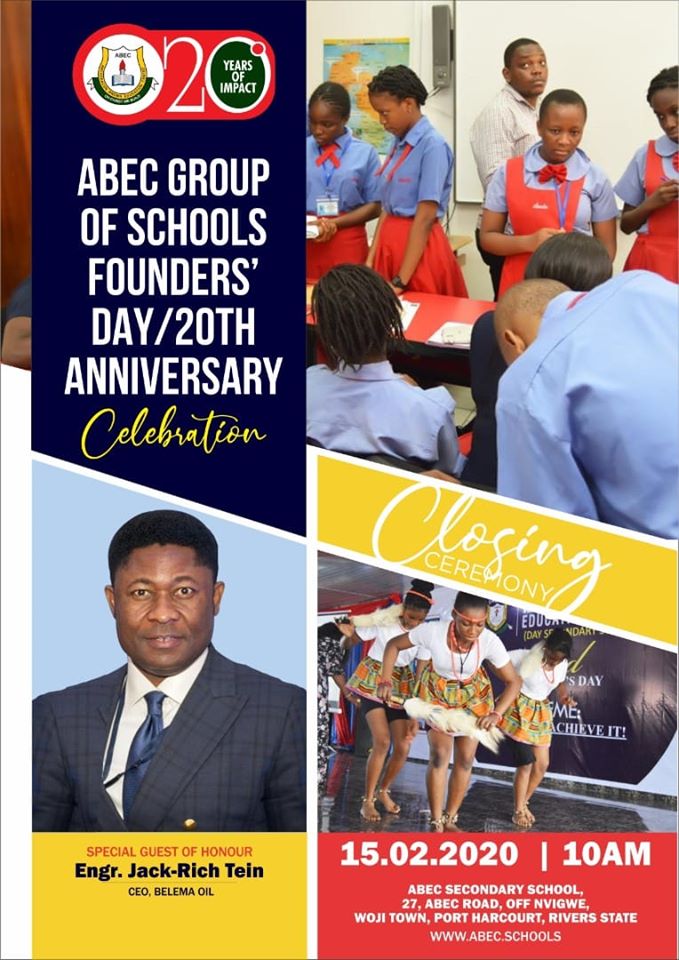 ABEC Group of Schools Celebrates 20 Years of Quality Education
Archdeacon Brown Education Centre, ABEC, Group of Schools has celebrated its twenty years of offering qualitative education to the society.
The celebration took place last Saturday at the school's premises at Woji, Port Harcourt, Rivers State capital.
In her welcome address, the Headmistress of ABEC Nursery and Primary School, Dr. Glory Iheanacho, said the Nursery and Primary school had made progress in "leaps and bounds" birthed to raise generations rich in knowledge and sound Christian values.
"Over the past twenty years, ABEC Nursery and Primary School has continued to evolve in leaps and bounds.
"A great learning environment birthed out of passion to raise generations that are rich in both knowledge and sound Christian principles/values.
The school has won several awards and honour both within and outside the state.
Chairman of the occasion, Dr. Victor Okoro, was full of commendation for the founder of the ABEC group of schools, Dr. Christie Toby, for "contributing to the good of humanity through quality education and character moulding."
He lauded teachers of the school for their efforts in shaping the lives of pupils and students.
The chairman called on parents and guardians to show interest in the academic activity of their children, insisting that such responsibility should not be left in the hands of the school and teachers, alone.
Special Guest of Honour and Vice Chancellor of Rivers State University, Professor Opuenebo Owei, who was represented by Professor Annie Amakiri commended ABEC Group of Schools for standing the test of time through sound and balanced education, adding that any school that has a solid foundation would be a sought-after by parents and guardians.
"It is the wish of parents to have good education for their children, sound and balanced moral education. This is very important in view of moral decadence in the society.
"The incidence of cultism, sexual pervasion, promiscuity is at an alarming and worrisome rate, so parents want to know which school would best nurture their children and wards best in terms of academics and fear of God.
"ABEC is fulfilling that part and should continue in their stride and show others the way.
Former Rivers Deputy Governor and Chairman, ABEC Group of Schools, Sir Gabriel Toby, commended parents, academic and non-teaching staff for their diligence, patience and contribution to the growth of the various schools in the group.
"We can't do it alone. Parents and teachers must also do their part well, so we can have great students and children. ABEC children are very good ones and have excelled in all areas with excellent track records. Those taking over will follow the track record.
"I want to request our parents to tell our story. We offer cheaper fees but we offer the best in terms of quality education. I commend parents who have brought their children to us; they will not regret bringing them here.
"Kindly tell us the areas that require improvement and make appropriate enquiries where necessary. The principals and teachers are always available to respond to all inquiries. There is no need posting things on groups that are many times not fact-based."
On her part, Managing Director/Chief Executive Officer of ABEC Group of Schools, Dame (Dr.) Christie Toby, praised the benevolence of God on the school since inception on January 10, 2000.
She explained that the idea behind establishing the school was to raise children in quality education and moral upbringing, who would in turn help raise the standard of living in Nigeria.
"My desire is to raise quality leaders in all spheres of human endeavor and who will in turn help to raise the standard of living of people.
"Our idea is to start from the crèche to nursery/primary to secondary/advanced level and I am glad we have been able to improve on quality of children we have been sending to universities.
"Our children are excelling in many parts of the world because we imbibed in them culture of respecting one another, sound and moral education, so that they can fit into any level of challenge.
"ABEC group of schools is a mini Nigeria. We inculcate in them love and how to relate with each other. We have had Nigerians abroad send their children here to have good education because they believe in us."
She commended parents, teachers and non-teaching staff for their dedication and commitment to the success of the school in the last twenty years.
Copied from The Neighbourhood.